Veterinary Assisting
Students enrolled in the Animal and Veterinary Science program will:
Develop veterinary clinical skills such as assessing animal health and administering medications.
Raise a variety of animals, including sheep, pigs, chinchillas, snakes, and ferrets.
Work in a team with other students to manage a daycare for dogs in our licensed kennels.
---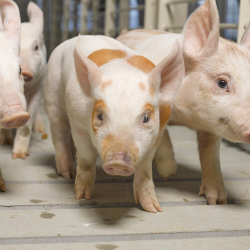 ---
<!- box:box-1 -->
Computer Science
Construction
Transportation
Human Services
Agriculture, Life & Health Services
Advanced Manufacturing
Arts & Creative Design
Full List
View All Videos
Units of Study
Orientation & Safety
Office & Hospital Procedures
Communication & Client Relations
Pharmacy & Pharmacology
Examination Room Procedures
Animal Nursing
Surgical Preparation & Assisting Laboratory Procedures
Laboratory Procedures
Radiology & Ultrasound Imaging
Animal Anatomy & Physiology
Industry Credentials
Animal Technology students can earn the following certifications and credentials in high school:
CareerSafe OSHA
Pet First Aid and CPR
Youth for the Quality Care of Animals
NAVTA Vet Assisting *Coming Soon
College Articulation
Bucks County Community College - Up to 35 Credits
Students must meet program requirements to access credits
Advanced on NOCTI/NIMS exam
Completion of Task List

Harcum College* - 3 Credits
Manor College* - 1 Credit
*Indicates SOAR Credits 3902 SOAR page 1
Industry Salary Ranges
Nonfarm Animal Caretaker: $17,550 - $35,860
Veterinary Assistants: $18,060 - $36,690
Veterinary Technicians: $21,890 - $47,410
Career Opportunities
Animal Technician
Animal Care Provider
Kennel Technician
Veterinary Assistant
Animal Lab Technician
Grooming Assistant
Zookeeper Assistant
Wildlife Conservation Officer
Program Costs
Uniform: $27 - $32
Safety Boots: $35