Exercise Science & Sports Technology
Under the guidance of professional staff, students will:
Prepare students for sports medicine, health care, and kinesiology careers.

Students will learn medical terminology, safety procedures, nutritional facts, first aid, CPR and basic anatomy, and kinesiology.

They will learn theories of building exercise & rehabilitation programs, emergency care, injury recognition, and prevention, along with overall mental and physical health wellness.
---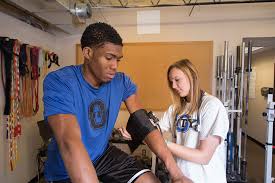 ---
<!- box:box-1 -->
Computer Science
Construction
Transportation
Human Services
Agriculture, Life & Health Services
Advanced Manufacturing
Arts & Creative Design
Full List
View All Videos
Units of Study
Organizational and Professional Health and Wellbeing
Documentation, Legal and Ethical Issues
Emergency Care And Infection Control
Injury Prevention And Protection
Treatment, Rehabilitation, And Clinical Skills
Nutrition And Hydration
Exercise Science And Prescription
Human Development And Mental Health
Medical Terminology
Anatomy, Physiology, And Pathophysiology
Certifications
Exercise Science & Sports Technology students earn the following certifications in high school:
Pennsylvania Skills Certificate (NOCTI)
AED, CPR, and First Aid
Personal Training Certification (ACSM)
CareerSafe OSHA Certification for Healthcare workers
Emergency Care and Safety Institute (ECSI) Certifications for Sports First Aid and Injury Prevention
HIPPA Alliance
Blood Borne Pathogens
ACSM Personal Trainers
Letters of Recommendation
Industry Salary Ranges
Fitness Trainer and Aerobic Instructor: $31,667 median salary
Physical Thereapy Technicians - $56,466
Coaches - $32,550 to $39,740
Athletic Trainer - $52,043
Fitness Manager - $74,828
Career Opportunities
Certified Personal Trainer
Fitness Club Manager
Physical Therapy Technician
Exercise Specialist
Fitness Instructor
Athletic Trainer
Holistic Therapy
Registered Dietician
Occupational Therapy
Local Participation and OAC Members
Dennis Pfleiger - President at Saint Luke's Quakertown
Chris Peduzzi - Sports Medicine Coordinator / Lead Athletic Trainer at Saint Luke's
Scott Hegan - Assistant Principal at Pennridge High School
John Mishock - Owner at Mishock Physical Therapy & Associates
Jennifer Hopper - Owner and Personal Trainer/Forever FIT: Fitness Studio
Danielle Bodnar - Upper Bucks County Chamber of Commerce
Keith Gray - Director of Sports Performance at Saint Luke's
Kathleen Fortier - Executive Director On the Move Physical Therapy & Assistant Professor oh Healthcare Management & Leadership at Arcadia University
Brian Gilbert - Director of Athletics at Palisades High School
Michael Zackon - Supervisor of Secondary Program at Quakertown High School
Jennifer Kukowski - Physical Education Department Chair at Palisades School District
Kristen Donze - Trainer at YMCA
Jessica Peterson - Operations Manager of PA CareerLink
Emily Fila - Athletic Director at Pennridge High School
Brian Cummings - Director of PA CareerLink
Stephanie Gehman - Director of Sports Medicine Programs at LVHN-Coordinated Health
Steven Hultgren -

Director of Fitness & Sports Performance at

LVHN-Coordinated Health